"Exciting News! 🌟 CraftivaArt now offers easy installment plans through the Klarna app. Shop your favorite products and pay later in convenient installments. Discover the joy of hassle-free shopping with CraftivaArt and Klarna. Start exploring today!"
Regular price
Sale price
$31.00 USD
Unit price
per
Sale
Sold out
Step into the future of TV room design in 2024 with the mesmerizing trend of Modern Minimalistic Wood Slat Walls serving as your TV panel. These vertical wooden slat walls are setting the interior design world ablaze, harmoniously fusing elegance and functionality. Regardless of your location, whether it's Canada, the USA, or any corner of the globe, these wooden TV wall panels not only introduce the timeless beauty of natural wood but also exemplify the perfect blend of form and function. Embrace the TV slat wall – a contemporary marvel that seamlessly integrates your television into a stylish wooden tapestry. It represents the pinnacle of practicality and aesthetics, bestowing upon your living space a touch of modern sophistication that resonates at the very heart of your home.
Vertical wood slat walls offer more than just looks. They expertly conceal unsightly wires, establishing well-defined zones within the room. Furthermore, the textured depth they bring infuses warmth and dimension, dramatically enhancing the room's overall ambiance. For those seeking a stylish and practical upgrade for their TV room decor, vertical wood slat walls are an excellent choice.
 A vertical wood slat TV wall combines the sleekness of a modern design with the timeless beauty of wood, creating a captivating focal point that perfectly frames your television and adds a touch of sophistication to your living space.
Crafting the perfect TV room involves careful consideration. Enter vertical wood slat walls, a contemporary and popular design innovation. These TV wall wood panel designs effortlessly merge natural wood aesthetics with utility. They're adept at hiding wires and cables or creating visual separation within the space. Plus, the tactile depth they lend generates warmth and depth in the room's atmosphere. If you're on the lookout for a trendy and functional means to elevate your TV room's ambiance, vertical wood slat walls should be on your radar.
Crafting a TV wall with vertical wood slats infuses your living space with a contemporary and nature-inspired design. It's a visually captivating way to showcase your television while adding a touch of modern sophistication and warmth to your room.
Our wood slat walls are made with non-toxic dyes and materials that are sourced responsibly, offering an eco-friendly solution to enhance the aesthetic of your TV room while preserving the environment.
They provide enhanced soundproofing, cushioning of ambient sound, and an additional layer of protection for your walls.
Why then wait?
Order your wood slat wall now to immediately transform your house!
 << we accept custom order wood slat panels >>
If you love the look of 3D wooden wall panels, but have concerns about maintaining their appearance, then you will appreciate your Ceraftivaart 3D Wide Slat Wall Panels.
ↈ  The price is based on one wood slat(if you order 2 slats, only TWO pieces of wall divider slats will be sent to you).
ↈ

MINIMUM order is 10 wood slats

.

ↈ How to install Wood Slat Wall :

An installation guide with pictures for Wood Slat Wall:
ↈ MATERIAL
We produce these wood slats out of PREMIUM BALTIC BIRCH PLYWOOD -and- RED AOK SOLID WOOD. There is a picture in the listing that compares the materials.


ↈ COLOR / Stain
You will need to specify color after adding to the cart, in the "Order special instructions" field.
The options are :
1-Light Maple
2-Dark brown walnut
3-Light Brown
4-Classic Gray
5-Black

Please keep in mind that there may always be some knots and grains on the wood. Also, because you see these colors on the monitor, the color and contrast settings of your screen (mobile or laptop) are not exactly the same as the actual color of the received item.

Order Vertical Wood Slat, Wood Slat Wall



ↈ SIZE
THICKNESS :
The thickness of the slats (which will be the depth when installed on the wall) is 3/4" inch.

WIDTH :
The width of the slats is 2" Inches wide for Plywood and 2.5" inches for Solid-wood.

LENGTH :
The options for the length of the slats are 3 feet, 4 feet, 4.5feet, or 5 feet (36", 48", 54" or 60"). Also, we are able to customize the length according to your space.


ↈ HOW TO ORDER (Minimum Order quantities is 10)
1-Select the  Material and size of each wood slat
2-Select the color for your wood slats
3-SET QTY of the wood slats and place the order (Minimum Order Qty is 10)


ↈ HOW MANY SLATS DO I NEED TO COVER AN AREA
We have 2 size options(width) 2" wide for Plywood and 2.5" for Solid-wood.


ↈ Here is the calculation logic:
Scenario 1 :
If you want to use 2" width Ply Wood slats with a 1" gap (you can change the gap size if you want) between slats on the wall=>
for every 3" width of the wall (2"+1"), you need one slat line.

Scenario 2 :
Or for 2.5" width SOLID-WOOD slats with 1" distance between slats on wall=>So that for every 4.5" width of the wall (2.5"+2") you need one slat line.

Depending on the height of the wall you need 2 slats. For example, if your wall height is 9' , you will need to order (2)xSlats@4.5feet (54") for each line.

WE ARE ABLE TO CUSTOMIZE THE LENGTH TO ANY SIZE, Please send us a message

Please let me know if you need any more information.

Thank you for your support!


Whether you reside in Toronto, Canada, the USA, or any other part of the globe, our 3D Wood  Slat Wall Panels are versatile additions to any setting. They bring a touch of sophistication to homes, offices, hotels, and various other spaces.
( Standard Size)
ↈ TAGS:
Tv Room, TV Room Design, TV Panel, TV wood slat panels, Vertical wood Panel, Wood slat wall, 3D  wood slats

View full details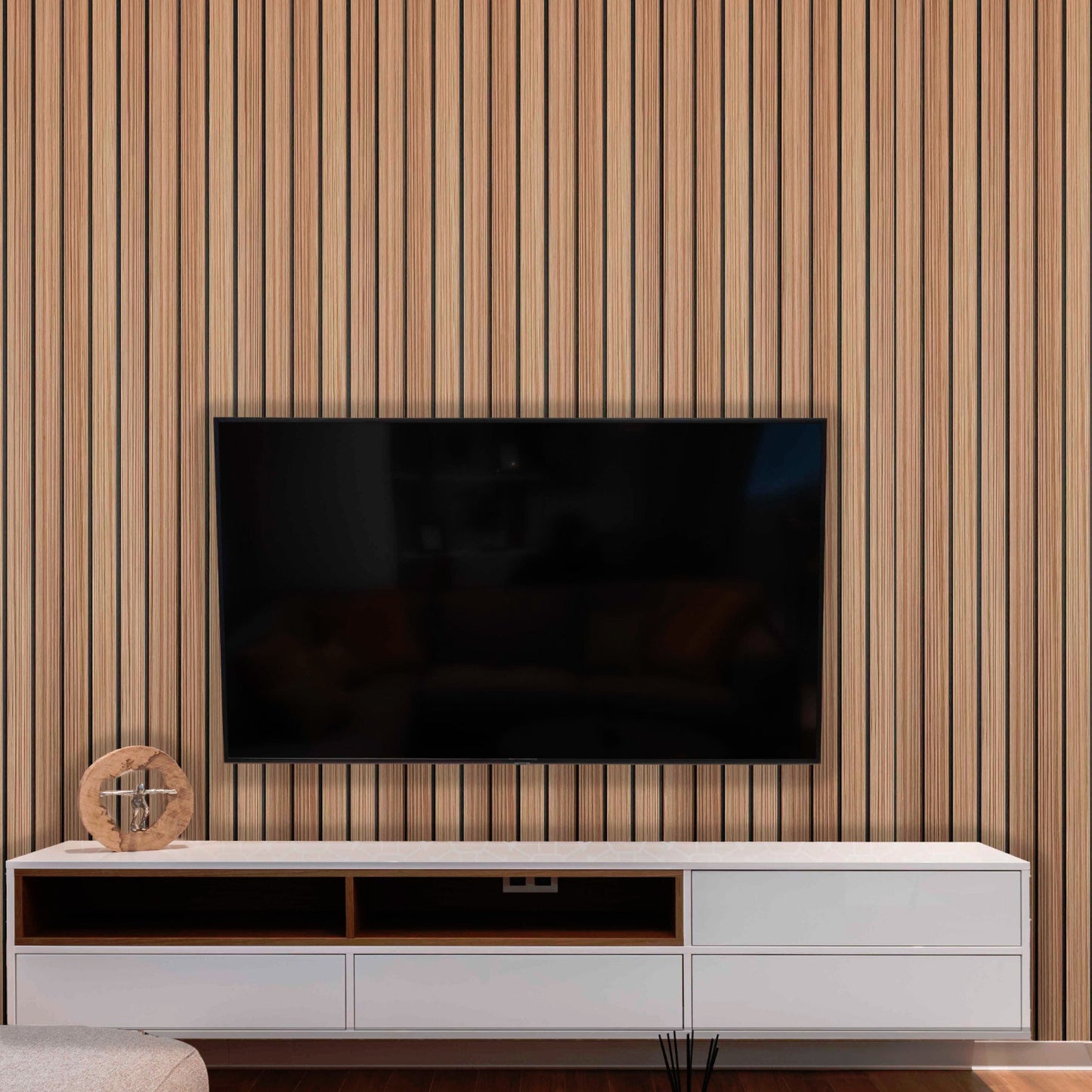 Do you offer professional installation services?

Dear Camille,

Thank you for reaching out to us regarding our product 2023 Amazing TV Panel Wood Slat Wall.

In response to your question, we regret to inform you that we do not offer professional installation services.
However, we provide detailed installation instructions to help our customers with the installation process.

Please feel free to let us know if you have any further questions or concerns.

Thank you for your interest in our products.

Best regards,
Craftiva Art