"Exciting News! 🌟 CraftivaArt now offers easy installment plans through the Klarna app. Shop your favorite products and pay later in convenient installments. Discover the joy of hassle-free shopping with CraftivaArt and Klarna. Start exploring today!"
Regular price
Sale price
$31.00 USD
Unit price
per
Sale
Sold out
Step into a world where wooden  slats for walls weave the tapestry of artistry and purpose, setting the very soul of your home ablaze. 

These wood wall panels transcend the realm of mere wood wall acoustic panels; they are a mesmerizing symphony, poised to metamorphose your living space into a haven of timeless beauty and comforting warmth.

ↈ Flooring and decore decorative wall partitions 
Envision a bespoke wood slat wall, not a mere barrier but a profound expression of your innermost aspirations. It stands as a blank canvas where the art of craftsmanship and the essence of your unique vision merge into a living masterpiece, resonating with an unparalleled personal charm.

These room divider wall panels, my friends, are more than mere custom wood wall panels; they are the living embodiment of artisan excellence. Room dividers that look like walls infuse life into every corner they grace, shaping it into an unparalleled masterpiece that mirrors your individuality in every fiber and grain.
ↈ Home decore, Slat wall paneling
These wood walls are created by expertly arranging tiny strips of wood together, resulting in an enriched 3D surface that adds a sense of luxury and delicacy to any space.
ↈ Think creatively when designing your home: 
Looking for a traditional approach to spruce up your home's decor? Whether you are in Canada, the USA, or any other part of the world, our magnificent wood slat walls have a timeless beauty and can add a distinctive flair to any space, making them ideal for any room in your home. These wooden slat wall panels are made of high-quality materials and add a stylish touch to any home.
If you're looking to add some rustic charm to your home, consider wood slat wall ideas for a warm and cozy aesthetic.
Our wood slat walls allow you to create a focal point in any room. Our custom sizing option facilitates installation and maintenance, offering an attractive and functional accent wall or partition.
ↈ Wall artwork, 
Wood slats for walls
Our vertical slatted wall panels are not only eco-friendly but utilize materials that are ethically sourced and non-toxic.
As a result, they won't just enhance the aesthetic appeal of your home; they'll also assist in preserving the environment.
They can offer all-encompassing noise reduction and calming background noise in addition to protecting the wall's perimeter with an outside solution.
Why then wait?
Order your wooden wall slats right away to instantly change your house!
                      we accept custom order slat wood panels
If you love the look of 3D wooden wall panels, but have concerns about maintaining their appearance, then you will appreciate your Ceraftivaart 3D Wide Slat Wall Panels.
ↈ  The price is based on one wood slat(if you order 2 slats, only TWO pieces of wood slats will be sent to you).
ↈ

MINIMUM order is 10 wood slats

.

ↈ How to install Wood Slat Wall :

An installation guide with pictures for Wood Slat Wall:
ↈ MATERIAL of individual wood slat wall
We produce these wood slats out of PREMIUM BALTIC BIRCH PLYWOOD -and- RED AOK SOLID WOOD. There is a picture in the listing that compares the materials.


ↈ COLOR / Stain of wood wall vertical slat
You will need to specify color after adding to the cart, in the "Order special instructions" field.
The options are :
1-Light Maple
2-Dark brown walnut
3-Light Brown
4-Classic Gray
5-Black

Please keep in mind that there may always be some knots and grains on the wood. Also, because you see these colors on the monitor, the color and contrast settings of your screen (mobile or laptop) are not exactly the same as the actual color of the received item.

Vertical Wood Slat, Wood Slat Wall, Wooden Slat Wall Panel



ↈ SIZE
THICKNESS :
The thickness of the slats (which will be the depth when installed on the wall) is 3/4" inch.

WIDTH :
The width of the slats is 2" Inches wide for Plywood and 2.5" inches for Solid-wood.

LENGTH :
The options for the length of the slats are 3 feet, 4 feet, 4.5feet, or 5 feet (36", 48", 54" or 60"). Also, we are able to customize the length according to your space.


ↈ HOW TO ORDER (Minimum Order quantities is 10)
1-Select the  Material and size of each wood slat
2-Select the color for your wood slats
3-SET QTY of the wood slats and place the order (Minimum Order Qty is 10)


ↈ HOW MANY SLATS DO I NEED TO COVER AN AREA
We have 2 size options(width) 2" wide for Plywood and 2.5" for Solid-wood.


ↈ Here is the calculation logic:

Scenario 1 :
If you want to use 2" width Ply Wood slats with a 1" gap (you can change the gap size if you want) between slats on the wall=>
for every 3" width of the wall (2"+1"), you need one slat line.

Scenario 2 :
Or for 2.5" width SOLID-WOOD slats with 1" distance between slats on wall=>So that for every 4.5" width of the wall (2.5"+2") you need one slat line.

Depending on the height of the wall you need 2 slats. For example, if your wall height is 9' , you will need to order (2)xSlats@4.5feet (54") for each line.

WE ARE ABLE TO CUSTOMIZE THE LENGTH TO ANY SIZE, Please send us a message

Please let me know if you need any more information.

Thank you for your support!


( Standard Size)
View full details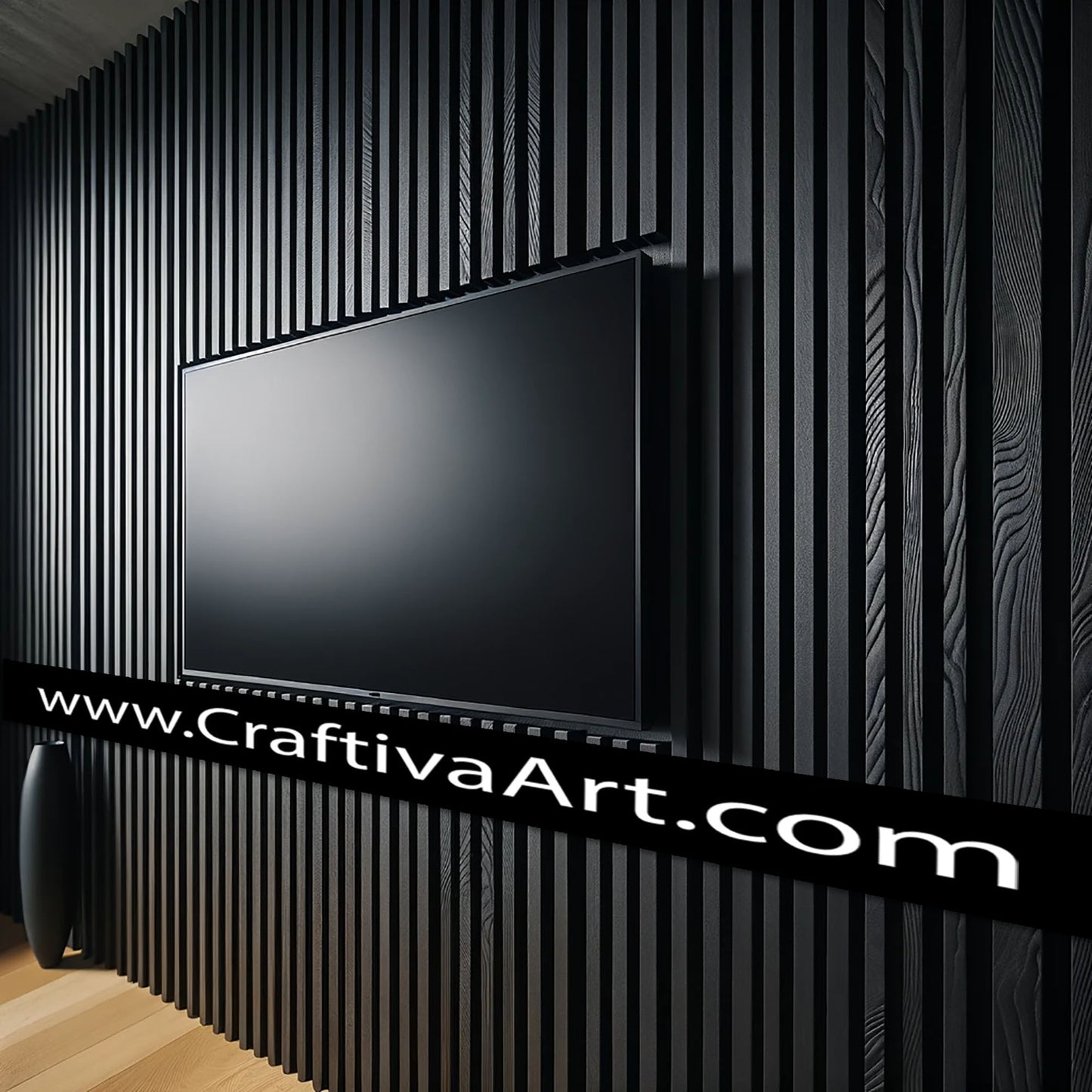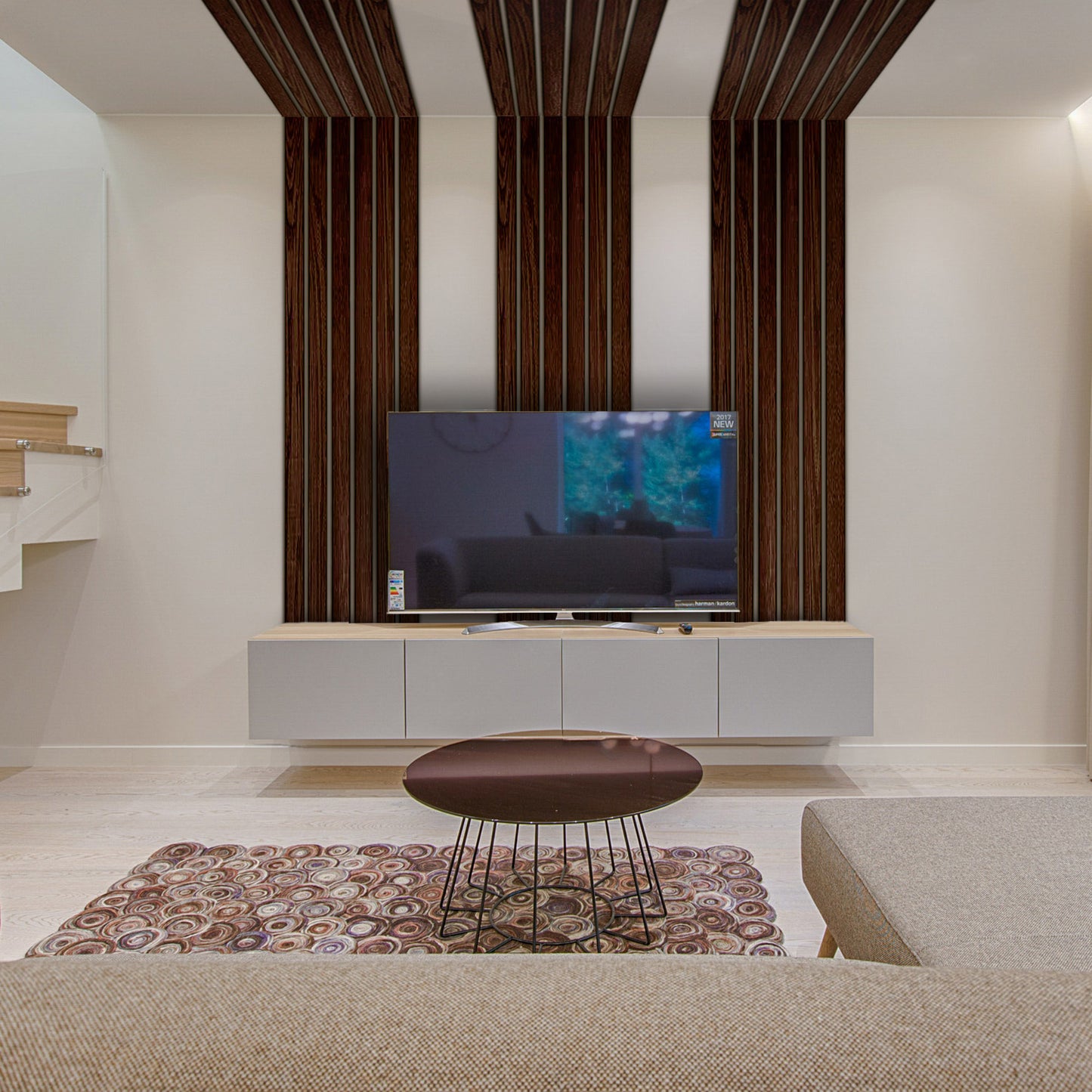 Why are the colors in the picture called different than the colors used in the 1-5 order name. Confusing

Hi there,
Thank you for your message. 

Depending on the ambient light, the color changes.

Regards,
Craftivaart