"Exciting News! 🌟 CraftivaArt now offers easy installment plans through the Klarna app. Shop your favorite products and pay later in convenient installments. Discover the joy of hassle-free shopping with CraftivaArt and Klarna. Start exploring today!"
Regular price
Sale price
$76.00 USD
Unit price
per
Sale
Sold out
Give your home a new look with craftivaart Folding  Room Divider Ideas

※Folding room dividers are the embodiment of practicality and efficiency, unlocking the hidden potential of your space by weaving a tapestry of distinct areas within a single room. This ingenious concept, often hailed as "rooms within rooms," breathes life into the very essence of multifunctionality, allowing your space to transcend its boundaries.

Imagine the possibilities: With folding room dividers as your artistic companions, you're free to conjure separate realms for a multitude of activities, all without the need for permanent structural alterations. They're your versatile allies, tailored for use at home, in the office, or wherever your heart desires.

From cozy dorm rooms to vibrant kids' play areas, and even the dynamic energy of gyms, these dividers are your chameleons, adapting effortlessly to your ever-changing needs. And the best part? A delightful bonus awaits you – the gift of free shipping on all standard-size room dividers across the USA and Canada, ensuring your dreams of space transformation come true without boundaries.

Advantages of Folding Room Dividers:
Portable, Space-Saving, Customizable, and Cost-Effective"CraftivaArt's Creative Canada room dividers offer several advantages over their fixed counterparts. Here is an SEO-friendly title that highlights the key benefits:Advantages of Creative Canada Room Dividers:
Portability: Easily moveable from one location to another, providing flexibility and versatility.

Space-saving: Quick and easy folding allows for convenient storage, freeing up valuable floor space.

Customizability: Available in a variety of styles and designs, allowing customization to fit specific interior design preferences.

Cost-effectiveness: Often more affordable than fixed room dividers, making them a budget-friendly solution for dividing spaces in your home or office.
※

Outdoor room divider Options:

 For outdoor room dividers, the most recommended materials are PVC, aluminum composite, and HDPE.
ↈ How to order fold-able room dividers:

 ⁜⁜⁜⁜ The minimum order quantity is two panels  ⁜⁜⁜⁜
First, please select the material/color of your friendly panels choice, then select the height and quantity of the panels (we will hinge the panels for you). For  Custom order, On the step of adding to the card, click on my card, in the "Order special instructions" field, Please insert the pattern design number from the pictures (most room dividers are 3 panels OR 4 panels).
 ↈ Dimensions:
Each individual panel is 16 inches wide. The total width of the Room Divider is according to the number of panels you choose.
The available options for the height of Room Dividers are:
⁜ 48 inches
⁜ 60 inches
⁜ 70 inches
⁜ 80 inches
⁜ 90 inches

⁜⁜ All standard sizes are free shipping to USA & CANADA ⁜⁜
⁜⁜ This listing may contain some custom-sized pictures ⁜⁜


⁜⁜⁜⁜ WE ALSO ACCEPT CUSTOM-SIZE PANELS AS WELL. Just message us for more details. ⁜⁜⁜⁜

⁜⁜ Write us directly if you need any help with measurements or if you have any questions.


ↈ Materials Choice (We use only high-quality and best available in the market):

⁜ PVC White 1/2 inch
⁜ Birch Plywood 1/2 inch (Unpainted)
⁜ Silver Aluminum Comp 1/4 inch
⁜ Black Aluminum Comp 1/4 inch
⁜ Bronze Aluminum Comp 1/4 inch
⁜ Gold Aluminum Comp 1/4 inch
⁜ Silver Aluminum Comp WITH WOOD FRAME
⁜ Black Aluminum Comp WITH WOOD FRAME
⁜ Gold/Bronze Aluminum Comp WITH WOOD FRAME
⁜ Walnut Veneered WITH WOOD FRAME
⁜⁜ Please be aware that the product's color may vary due to room illumination and computer screen resolution.



ↈ Patterns:

We have provided you with a list of patterns to choose from in the pictures listing. You can select your pattern number from the image and write it On the step of adding to the card, in the "Order special instructions" field,  you can send us any pattern design you have chosen on the internet via message. Or send us an email at: Craftivaart@gmail.com. Don't forget to include the product link from the address bar

ↈ Other Custom Pattern: 
( For choosing a pattern from this listing please add  the word "custom" before the pattern number for instance:  pattern: custom-01 )
View full details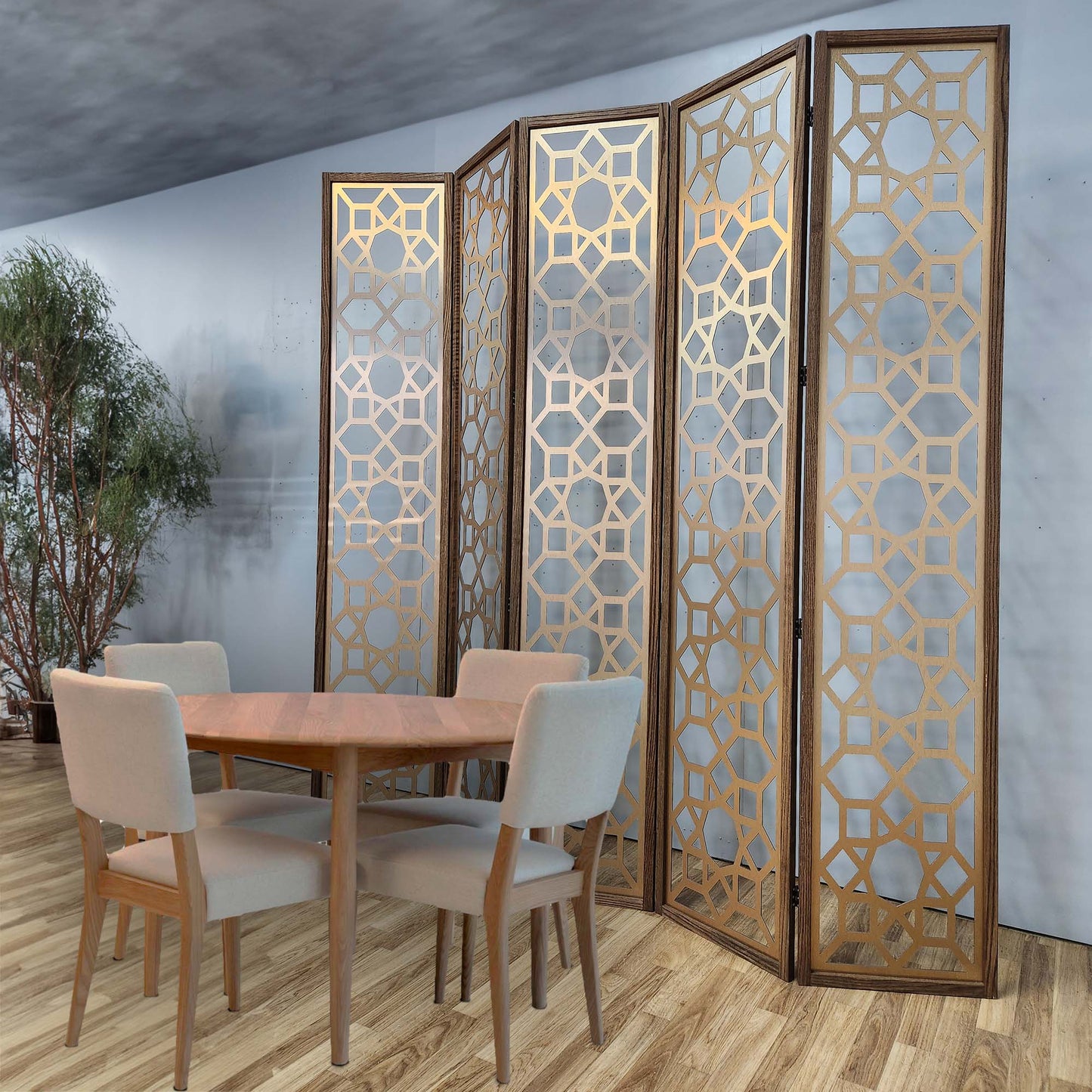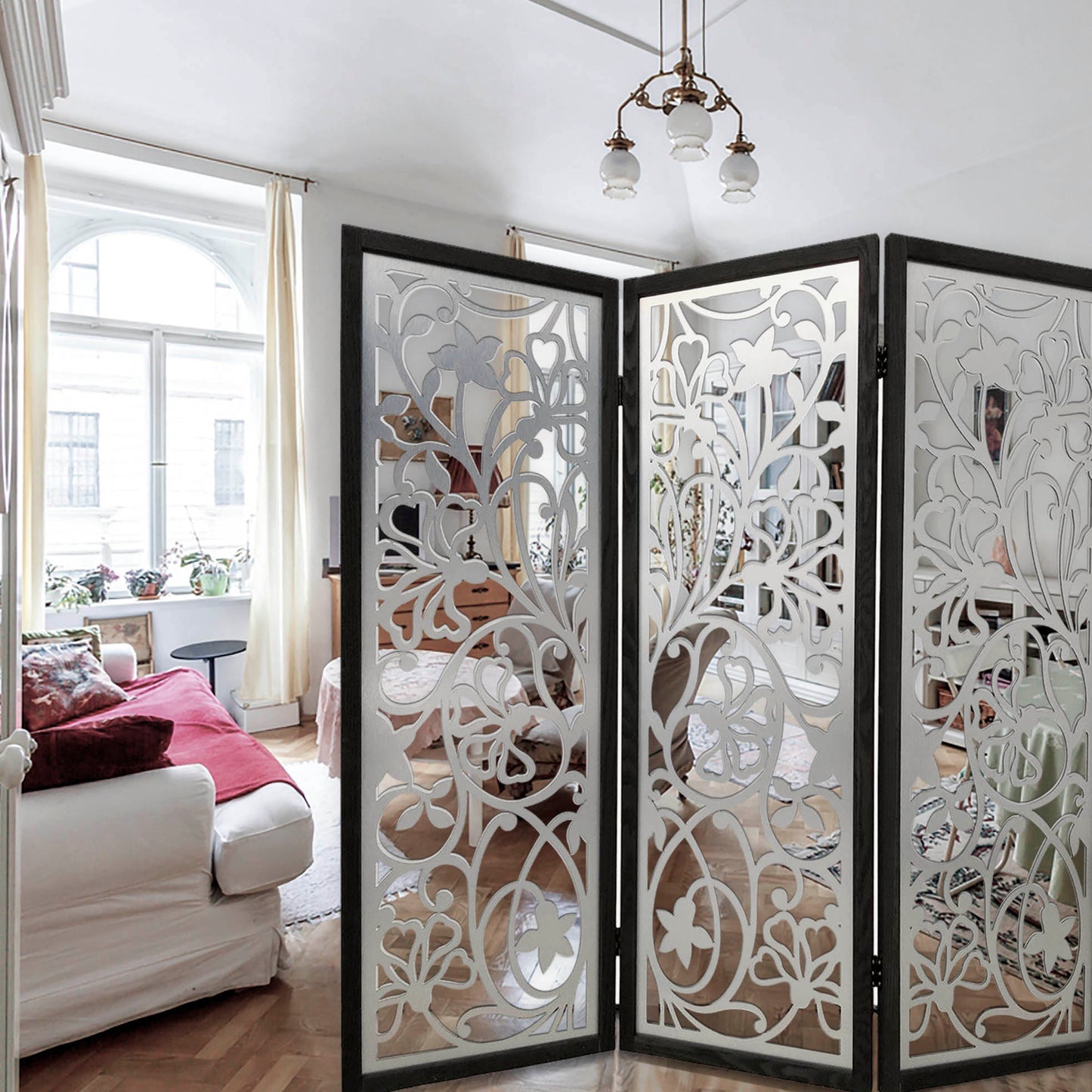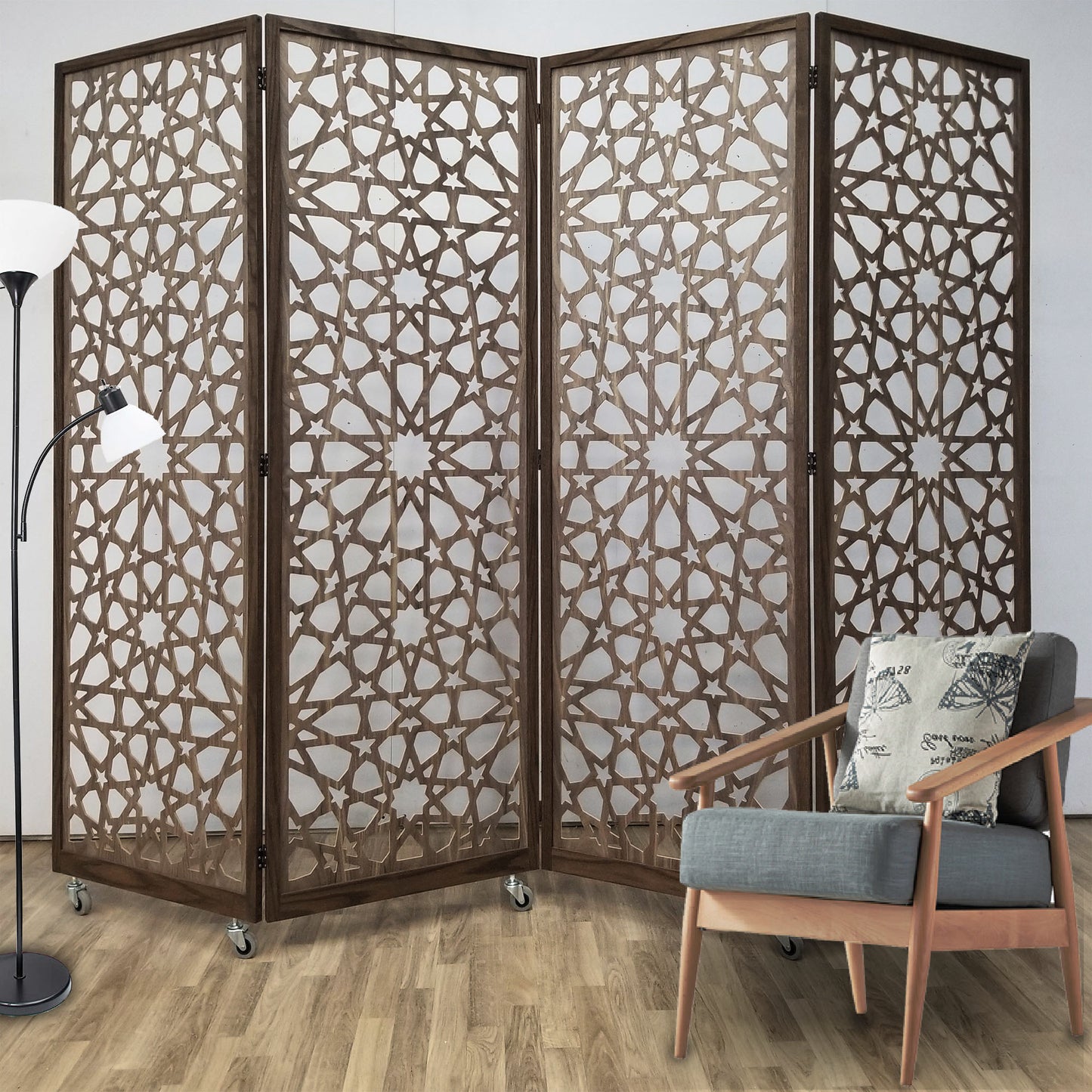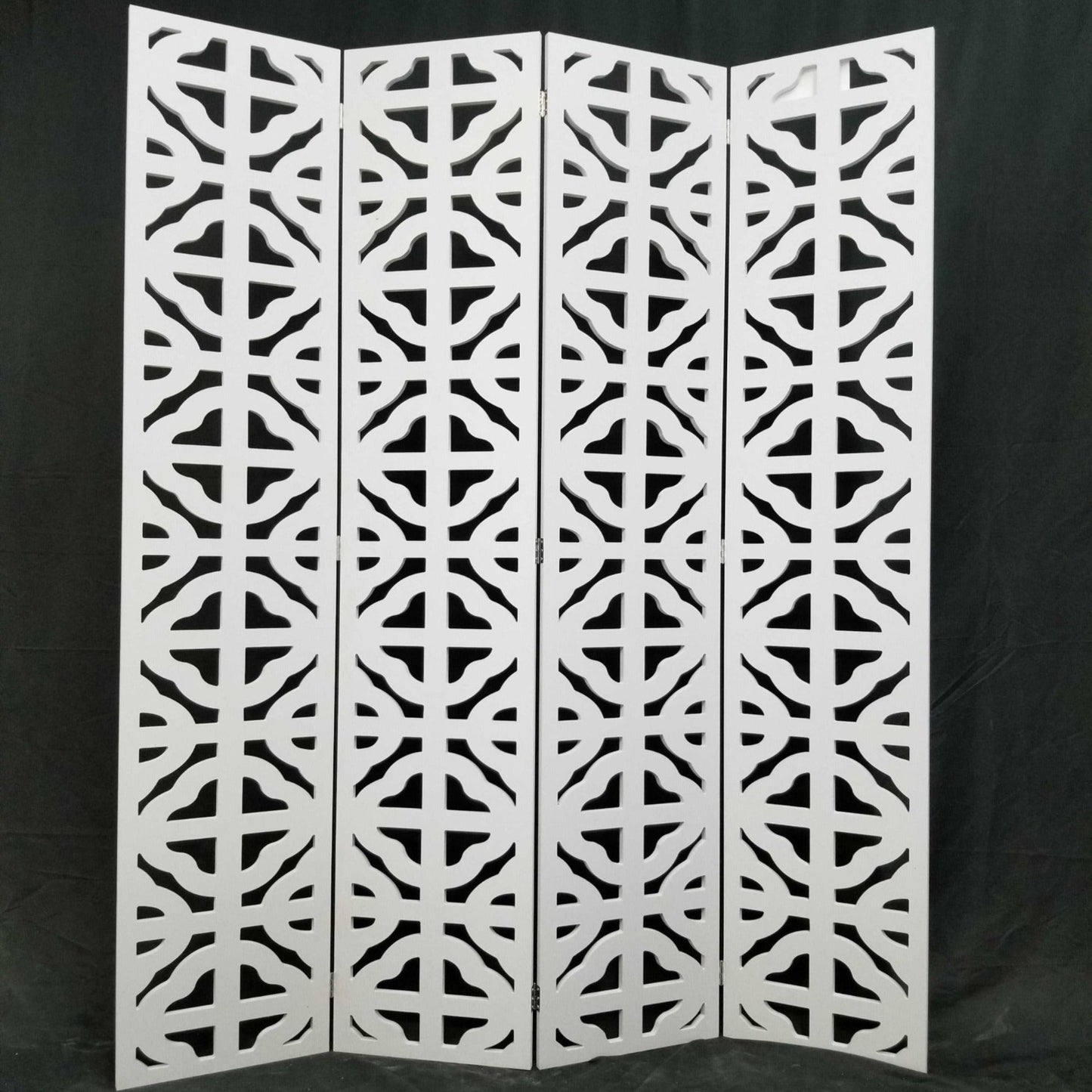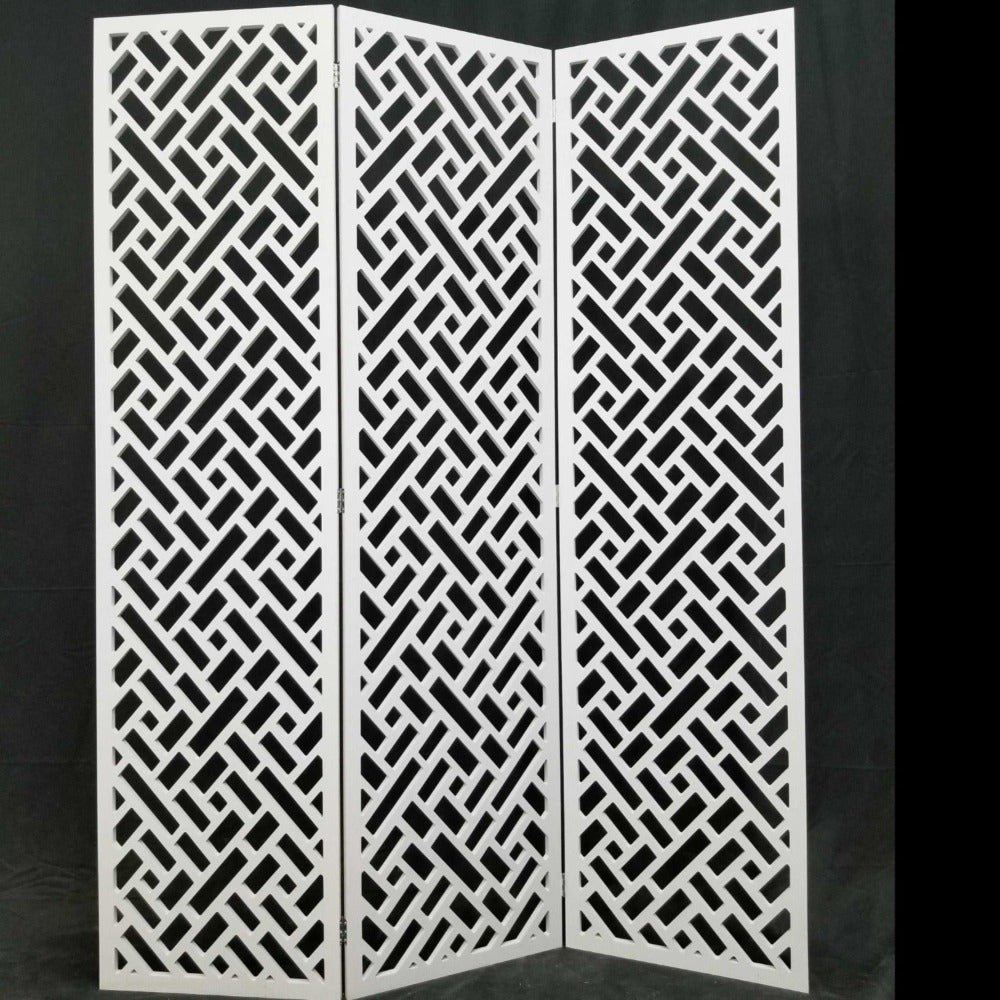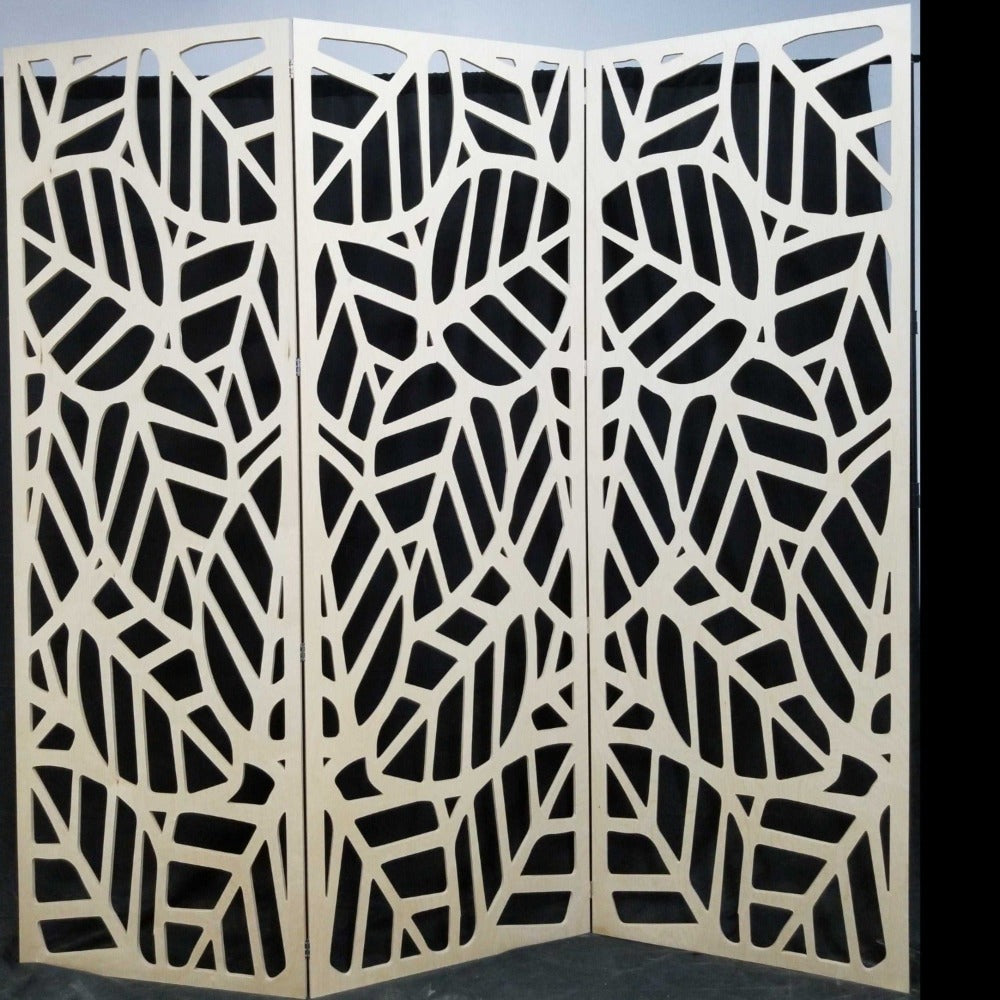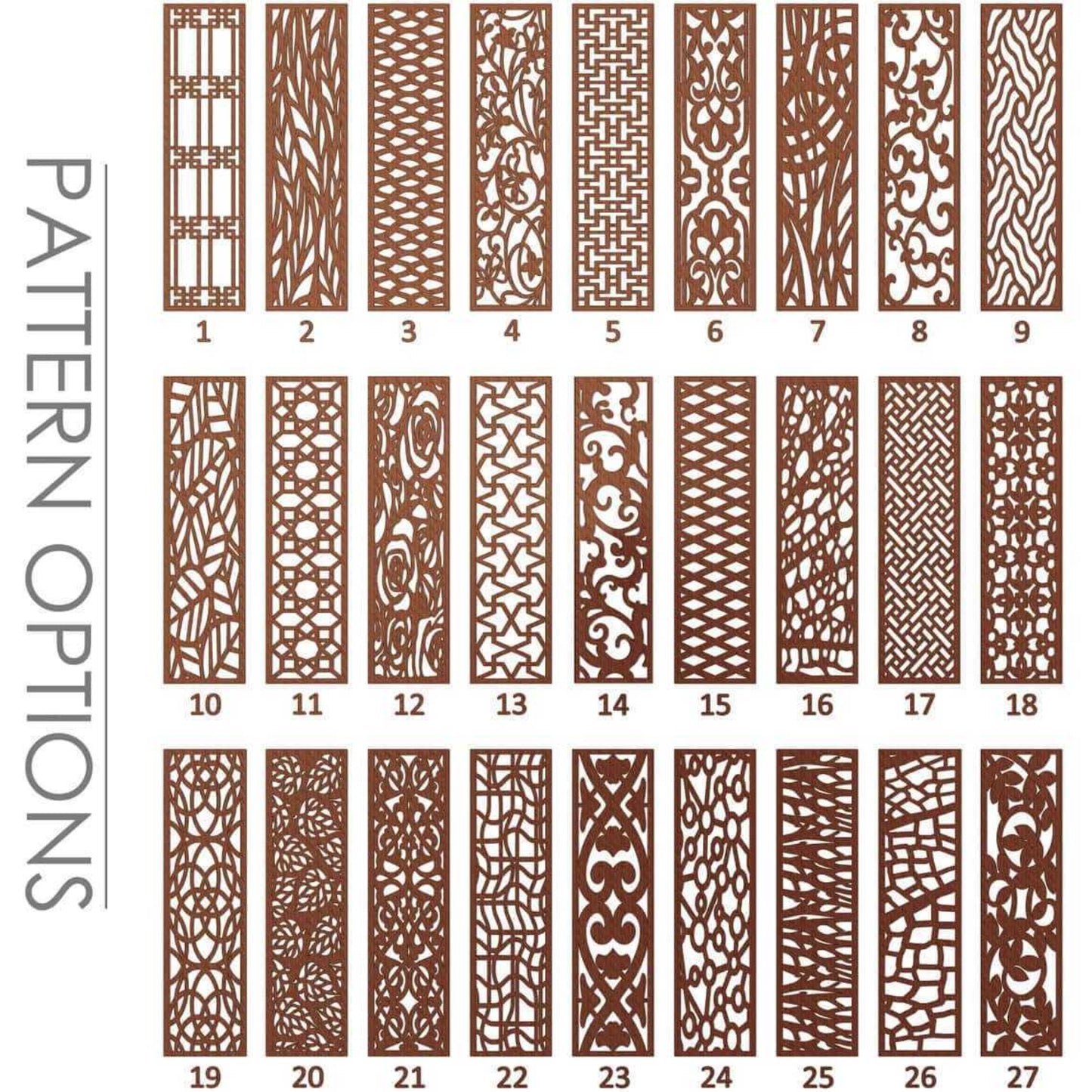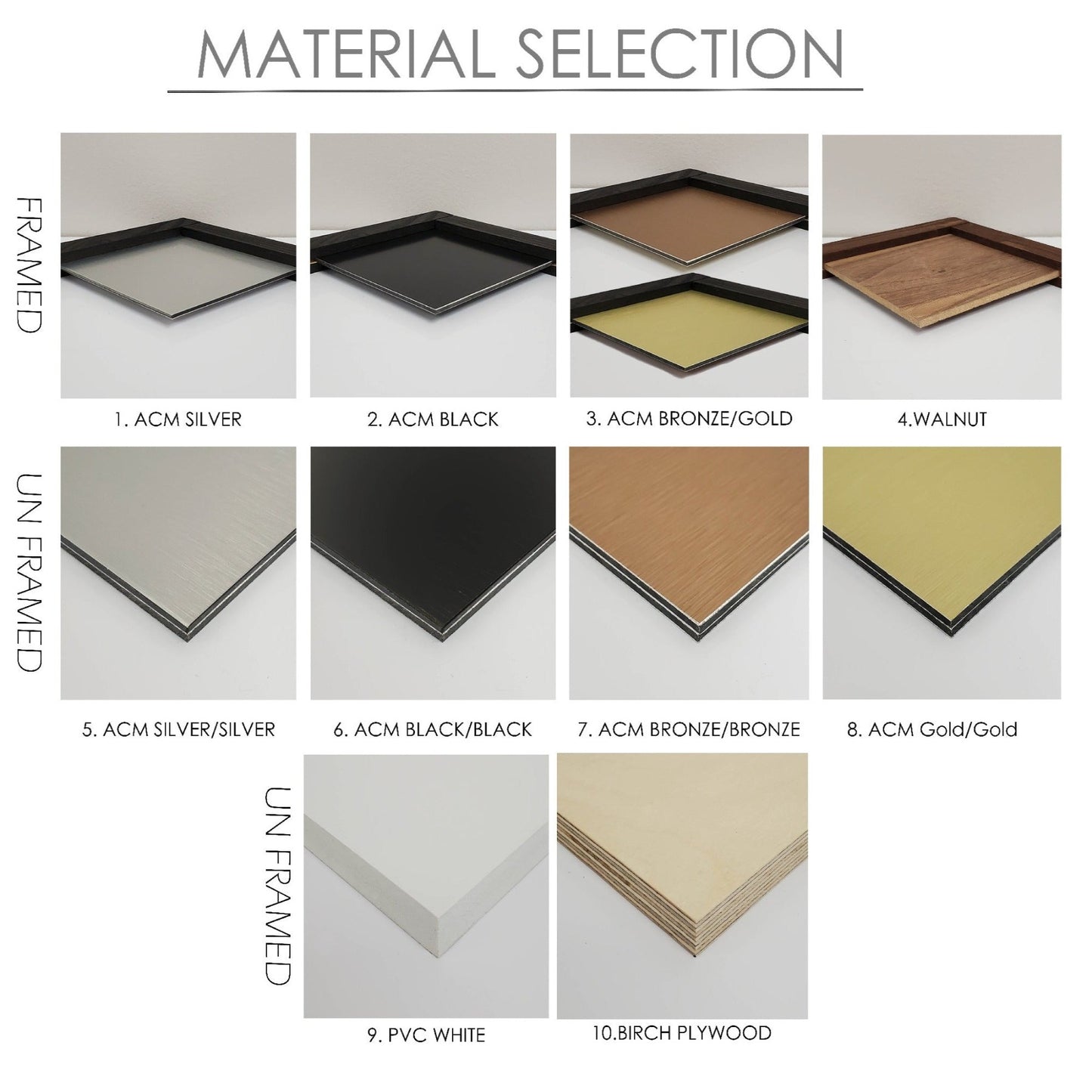 Perfect!
Truly beautiful and amazing pieces!! We needed a makeshift door without installing an actual door, and this fit the bill. We were able to customize the fit and design, and it looks perfect.
an excellent company with great communication and customer service
Our new screen is beautiful and is just as we ordered! We requested it to be hinged in an unusual way and they were able to do so perfectly. This is an excellent company with great communication and customer service. They went above and beyond when a problem (out of their control) was encountered with the shipper. We would highly recommend them. Thank you so much for our beautiful screen!!
gorgeous and perfect room divider, Thank you seller.
My room divider came out beyond gorgeous and absolutely perfect for my space! I have gotten so many compliments on it.
What is the weight of each 16" panel, and also what is the weight of the entire divider. For example, I ordered 1/2"-PVC-white panels (total of 5 panels) so what is the weight of each panel as well as the combined weight of all five? Thank you.

Hello there, 

It would depend on the material, height and the pattern. 

But if we say PVC 80"x16" with an average pattern ( not too crowded ) will be around 10-15lb so all 5 together will be around 55-60 lb

What footing/stand do you have on the 90 inch, 3 panel screens to prevent from tipping over since so tall and thin.

Hi there,



Thank you for your message.

 

 

This kind of dividers are freestanding with multiple hinged panels to keep them upright

 

You can also secure it to the floor as the following link instructions:

 

https://cdn.shopify.com/s/files/1/0617/0764/9250/products/install.png

 

 

Regards,

Craftivaart

 

IF I ORDER YOUR 90" - 4 PANEL (THE FIRST PICTURE ON YOUR SITE ) ALUMINUM COMP GOLD BRONZE, IT SAYS IT IS ON A FRAME. QUESTION: HOW WIDE (THICK) IS THE FRAME ?

Hello,

Thank you for your message.

Wood frames are 3/4 inch thick. we are using solid wood red oak for the framing.