"Exciting News! 🌟 CraftivaArt now offers easy installment plans through the Klarna app. Shop your favorite products and pay later in convenient installments. Discover the joy of hassle-free shopping with CraftivaArt and Klarna. Start exploring today!"
Regular price
Sale price
$75.00 USD
Unit price
per
Sale
Sold out
ↈAmazing High-Quality wall dividers,  Custom made room dividers, DIY room dividers

 DIY room dividers
Our Room Dividers, meticulously crafted from premium materials, aren't just pieces of decor; they are gateways to a world of creativity. They stand as a testament to our commitment to offering you unique ways to adorn your home, ensuring that every inch is a canvas for your dreams.
※

Outdoor room divider Options:

 For outdoor room dividers, the most recommended materials are PVC, Aluminum composite, and HDPE.



ↈ 

PROOF DRAWING:

Within 72 hrs. after you submitted your order we will send you a PROOF DRAWING. So PLEASE check our messages after placing the order.


IMPORTANT:

PLEASE NOTE the time that we are waiting for you to confirm the proof drawing or answer any questions will be added to the regular turnaround time. Since we can not keep the order as INCOMPLETE (overdue order) in the shop, If you do not answer our messages, We HAVE TO mark the order as completed/sent. Obviously, whenever you responded to us, we will start the production and ship it to you asap.

ↈ 

INSTALLATION:

Your panels can be hinged together in order to be FREE-STANDING, OR they can be secured to the floor/ceiling as well as the side walls, Or another option for installation is to Hang it from the ceiling (see pictures in the listing)
Please specify in the customization so that we produce the panels accordingly and provide you with the appropriate hardware.

ↈ 

SHIPPING:

Based on your order, the shipping price would be different due to different addresses, weights, and sizes. We estimate a minimum of USD$70 shipping costs for each order. After the final packaging, we will get quotations from various shipping companies and We will communicate further updates from the shipping companies with you.



ↈ 

SELECT PATTERN DESIGN:


We have provided you with a list of different patterns to choose from in the listing pictures. You can select your pattern number from the image and write it in the "Personalization" box, OR you can send us any pattern design you have chosen on the internet.
In the google search phrase "VECTOR PANEL", There are hundreds of shops that are selling beautiful designs.
WHICHEVER DESIGN YOU SELECT, WE WILL PRODUCE THAT PANEL FOR YOU.
Just send us your selected pattern link.
View full details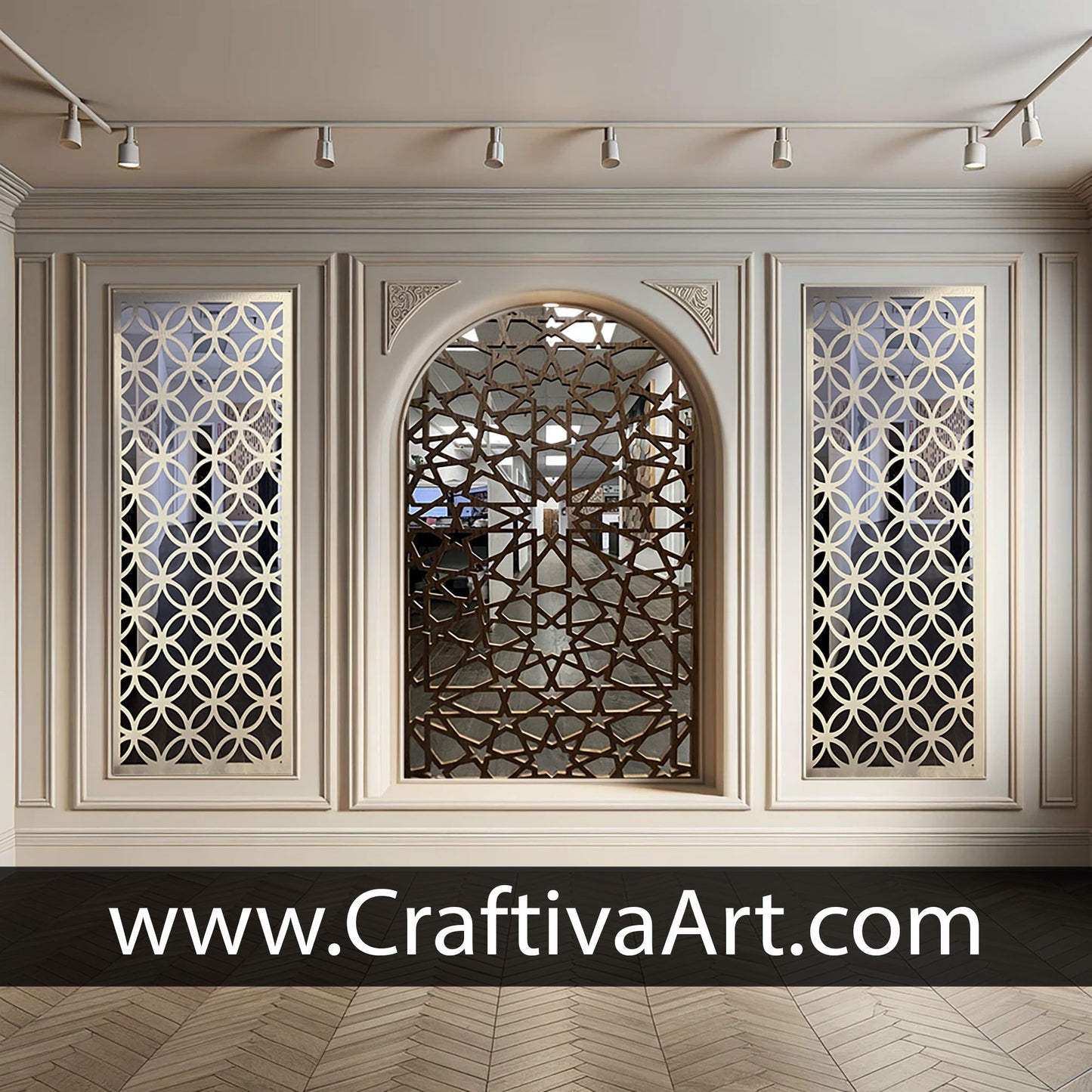 Good quality
It was exactly as I expected. Well constructed, a substantial weight and an accurate design. It shipped without damage because they take care to crate it well. Customer service took point in communicating and to be available should there be a problem. No problems though! I love it and am excited to have this in my home. Thank you.
What is with the frame mean?

Hi there,
Thank you for your message.

When we talk about the frame of a room divider, we're referring to the border or edge that surrounds each panel. Some dividers come with a frame, while others do not.
If a room divider is frameless, that means it doesn't have a border around each panel. It's just the panel itself without any additional material around it.

Regards,
Craftivaart