"Exciting News! 🌟 CraftivaArt now offers easy installment plans through the Klarna app. Shop your favorite products and pay later in convenient installments. Discover the joy of hassle-free shopping with CraftivaArt and Klarna. Start exploring today!"
Regular price
Sale price
$76.00 USD
Unit price
per
Sale
Sold out
ↈ

2023 Folding Room Dividers Idea:


※ Introducing the 2023 Frosted Glass room dividers, a testament to Canadian craftsmanship, proudly brought to you by Craftivaart. These ethereal creations redefine the way you divide and enhance your interior spaces, blending form and function into a mesmerizing symphony.

Picture this: The delicate framework of room divider sheets, a work of art in itself, offering a mesmerizing solution to visually separate your living room from the cozy embrace of your bedroom. Or perhaps, creating a dynamic tapestry of distinct regions within a single space, each with its unique aura.

Their elegance is a testament to their versatility, seamlessly transcending the boundaries of both residential and commercial spaces. They're the artists of sophistication, painting a touch of timeless class on the canvas of any environment.

Step into the world of Craftivaart's 2023 Frosted Glass Room Divider, and let its versatility and beauty breathe new life into your home or business, a harmonious blend of practicality and artistry that awaits your embrace today.
ↈ

Free-standing accordion folding room dividers

Whether you are in Canada, the USA, or any other part of the world, free-standing room dividers and accordion folding room dividers are wonderful solutions for dividing your living space in a diverse and simple way. 





ↈ

Material and Color Options (We use only high-quality and best available in the market):


⁜ Silver Aluminum Comp WITH WOOD FRAME
⁜ Black Aluminum Comp WITH WOOD FRAME
⁜ Gold/Bronze Aluminum Comp WITH WOOD FRAME
⁜ Walnut Veneered WITH WOOD FRAME
 
⁜⁜⁜⁜ For all the above colors you have the option to add a layer of TRANSLUCENT SHEET to add more privacy to your space. The semi-transparent layer will allow the light to pass through, But it will provide privacy and it will cover any clutter behind.

⁜⁜ Please be aware that the product's color may vary due to room illumination and computer screen resolution.


ↈ HOW TO ORDER Fold-able 

translucent room dividers

:
1- Select the "SIZE  and Panel Options "of your panels.

2- Add to the card

4-  On the step of adding to the card, in the "Order special instructions" field, please provide the following information:  
1. One of the Material and Color Options:
⁜ Silver Aluminum Comp WITH WOOD FRAME
⁜ Black Aluminum Comp WITH WOOD FRAME
⁜ Gold/Bronze Aluminum Comp WITH WOOD FRAME
⁜ Walnut Veneered WITH WOOD FRAME

2. The Pattern Number( from the pattern list ):
ↈ

Dimensions:


Each individual panel is 16 inches wide. The total width of Room Divider is according to the number of panels you choose.
The available options for the height of Room Dividers are:
⁜ 48 inches
⁜ 60 inches
⁜ 70 inches
⁜ 80 inches
⁜ 90 inches

WE ALSO ACCEPT CUSTOM-SIZE PANELS AS WELL. Just message us for more details.
⁜⁜ Write us directly if you need any help with measurements or if you have any questions.

ↈ

Patterns:

We have provided you with a list of different patterns to choose from in the listing pictures. You can select your pattern number from the image and write it in the "Personalization" box, Or you can send us any pattern design you have chosen on the internet via message.



ↈ

FREE Delivery to USA and Canada:

Our products have PRIORITY SHIPPING SERVICE, which is faster and safer. We will do our best to avoid any damage to our packages during the delivery and make them as fast as possible for you. Our DELIVERY IS FREE!

ↈ

Shipping & Delivery Elsewhere (Outside US and Canada):

Based on your order, the shipping price would be different due to different addresses, weights, and sizes. We estimate a minimum of $60 shipping costs for each order. After final packaging, we will get quotations from various shipping companies and We will communicate further updates from the shipping companies with you.
ↈ

Estimated delivery times:

⁜ Shipping your order within your expected timeline is our priority. However, the courier oversees the shipping process after we dispatch your item. It usually takes 5-7 Days (a tracking number will be sent to you).
⁜ We'll do our best to meet these dispatch estimates but can't guarantee them.

ↈ

Returns & exchanges:

⁜ We gladly accept cancellations
⁜ Request a cancellation within 24 hours of purchase
⁜ We don't take custom orders returns or exchanges, But don't hesitate to get in touch with me if you have any problems with your order.


ↈ

Customs and import taxes

Buyers are responsible for any customs and import taxes that may apply.
View full details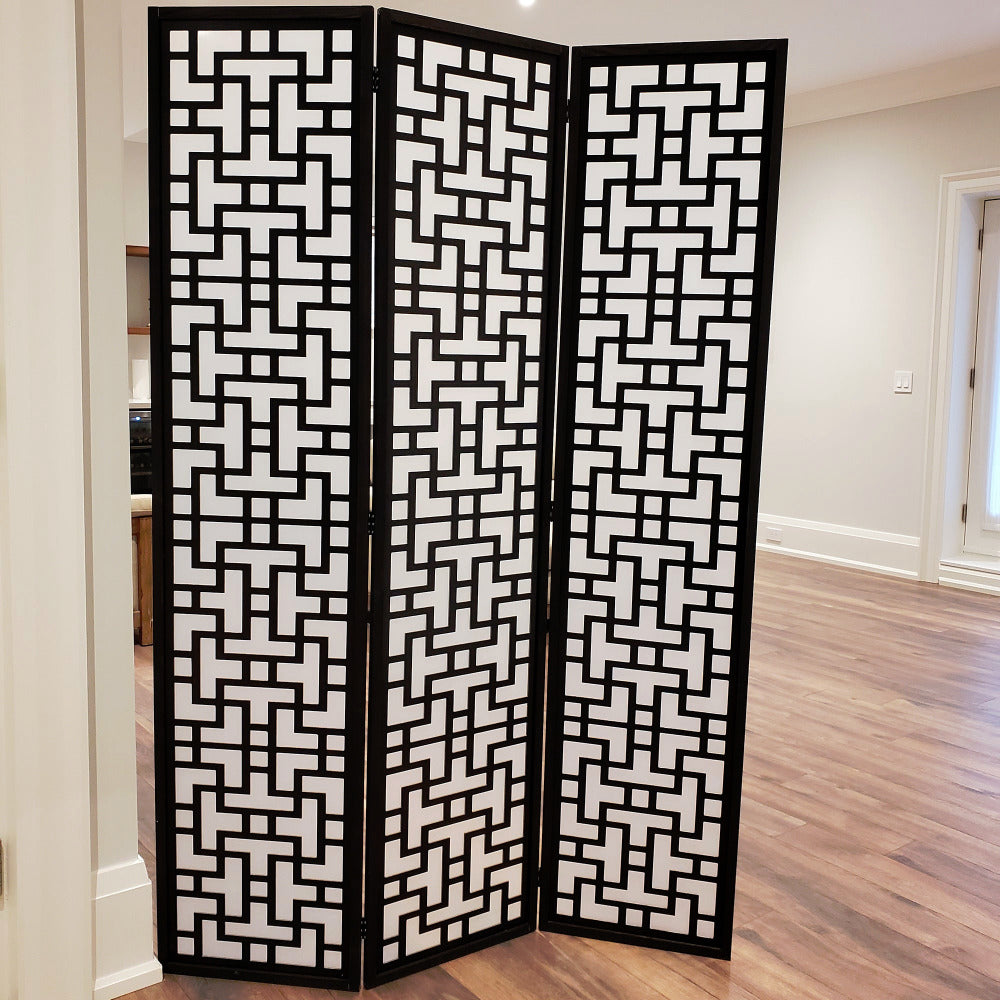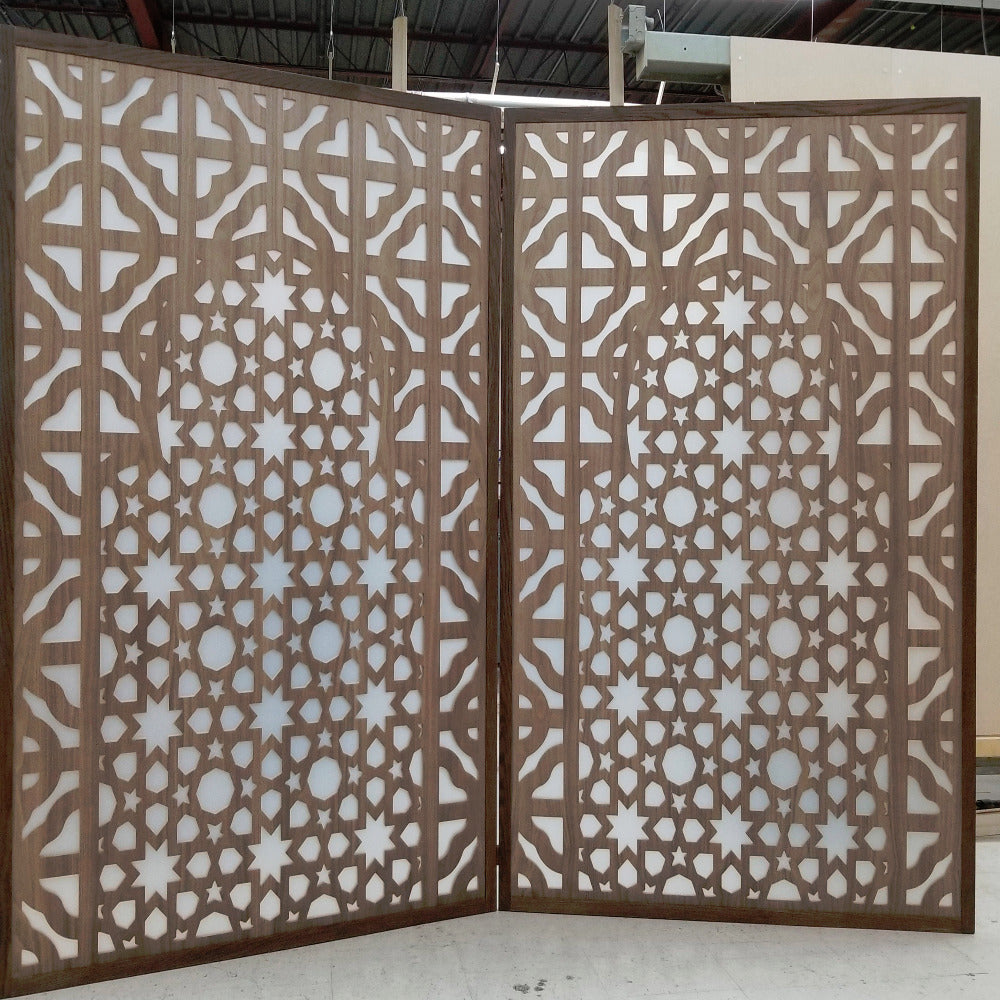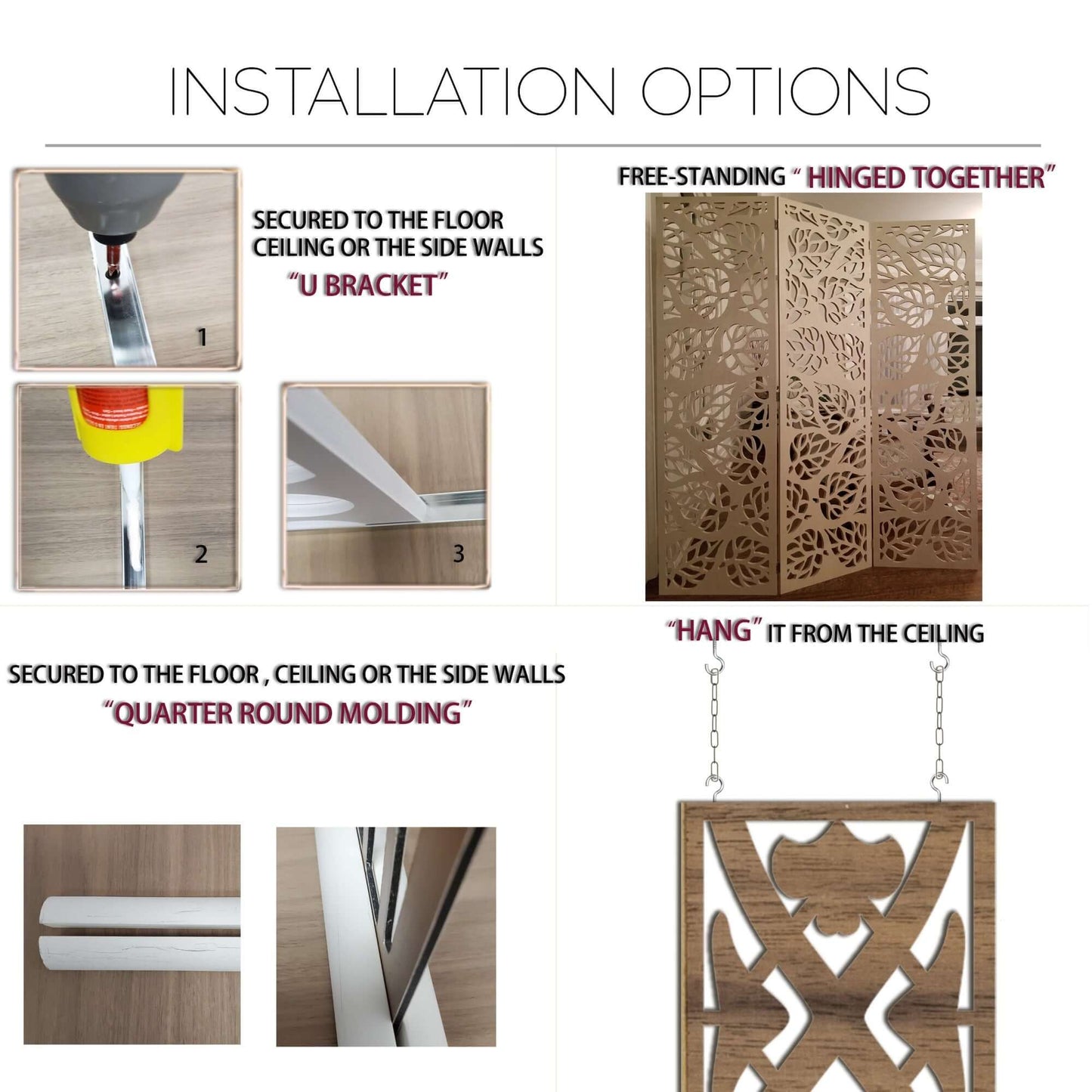 Our screen arrived today! Inbox
We love it! Thank you Craftiva Art!
John and Darlene K.
Morgantown WV.
beautiful divider
Looked like what i asked for. Nice work. Sturdy piece as well.
Stunning Folding Divider
Despite a delivery hick-up, the custom pattern #5 screen arrived in mint condition. The packaging was extremely well done, and well labelled, so there were no issues in removing the screen intact. As a first time customer, I am extremely pleased with the quality of materials and workmanship. This is a piece of art that compliments my outdoor, covered Asian-inspired courtyard. I couldn't be happier. Thank You CraftivaArt and Sami.
What is the material of the translucent sheet, and where exactly is it placed? What I mean, is the pattern viewable from the front and back, with the sheet in the middle? Can it be placed with the pvc white?

Hi there,
Thank you for your message.
The material of the translucent sheet is a Frosted Plexiglas Acrylic Sheet (white sheet), and we will place it between two layers of aluminum composite or walnut veneer sheet. 

Regards,
Craftivaart