"Exciting News! 🌟 CraftivaArt now offers easy installment plans through the Klarna app. Shop your favorite products and pay later in convenient installments. Discover the joy of hassle-free shopping with CraftivaArt and Klarna. Start exploring today!"
Regular price
Sale price
$75.00 USD
Unit price
per
Sale
Sold out
※ DIY room dividers are a creative way to add personality and functionality to your living spaces. These ingenious divider wall ideas allow you to customize your room's layout while expressing your unique style. Whether using repurposed materials, decorative screens, or simple shelving units, DIY room dividers provide an opportunity for homeowners to craft their own partitions, transforming open areas into distinct, multifunctional zones. Explore these inventive projects and unlock your inner designer to make your living spaces truly your own.
※ You can have a beautiful private space with the Craftivaart custom room dividers partitions

※

Outdoor room divider Options:

 For outdoor room dividers, the most recommended materials are PVC, aluminum composite, and HDPE.
ↈ  HOW TO ORDER:
1- Select the range of the WIDTH and the HEIGHT of your panel from the menu.

2- Select your choice of Material.

3- Add to the card

4-  On the step of adding to the card, in the "Order special instructions" field, please provide the following information:  
-The pattern design number. ((You can also send us ANY pattern that you have chosen on the internet.))
-The EXACT dimension of the panels.
-One of the installation solutions provided in the pictures:
I.   Hinged Panels for Free-Standing (minimum of 2 panels are required)
II.  U-Brackets for securing the panels to the floor, wall, or ceiling.
III. Hooks and Rings for Hanging the panels from the ceiling
And,
-Your phone number for the shipping!! WE DO NEED your phone number to provide it to the carriers.

Then add to basket, set the Qty … and purchase.
ↈ PLEASE NOTE:
Panels could be connected to each other to cover big areas. Please message us for more details and solutions.


ↈCHOICE OF MATERIAL, COLOR, THICKNESS:

here are 14 options for material:

⁜⁜ GROUP A - Unpainted:
1- MDF 1/2" thick (unpainted)
2- White PVC 1/2" thick
3- Birch Plywood 1/2" thick (unpainted)

⁜⁜ GROUP B - Framed:
4- SILVER Aluminum Composite 1/8" thick with Wood Frame
5- GOLD/BRONZE Aluminum Composite 1/8" thick with Wood Frame (One side is gold, Other side is bronze)
6- BLACK Aluminum Composite 1/8" thick with Wood Frame
7- Walnut Veneered MDF 1/4" thick with Wood Frame

⁜⁜ GROUP C - Premium Materials:
8- SILVER Aluminum Composite 1/4" thick
9- GOLD Aluminum Composite 1/4" thick
10- BRONZE Aluminum Composite 1/4" thick
11- BLACK Aluminum Composite 1/4" thick
12- HDPE Black 3/8" thick
13- Baltic Birch Plywood 1/2" thick, Stained in Light Brown
14- Baltic Birch Plywood 1/2" thick, Stained in Dark Walnut

***************Panels made of Aluminum Composite, HDPE and PVC can be used outdoors***************


ↈ PROOF DRAWING:

Within 72 hrs. after you submitted your order we will send you a PROOF DRAWING. So PLEASE check your email after placing the order.


ↈ IMPORTANT:

PLEASE NOTE the time that we are waiting for you to confirm the proof drawing or answer any questions will be added to the regular turnaround time. Since we can not keep the order as INCOMPLETE (overdue order) in the shop, If you do not answer our messages, We HAVE TO mark the order as completed/sent. Whenever you responded to us, we will start the production and ship it to you asap.


ↈ INSTALLATION:

Your panels can be hinged together in order to be FREE-STANDING, OR they can be secured to the floor/ceiling as well as the side walls, Or another option for installation is to Hang it from the ceiling (see pictures in the listing)
Please specify in the customization so that we produce the panels accordingly and provide you with the appropriate hardware.


ↈ SHIPPING:

Based on your order, the shipping price would be different due to different addresses, weights, and sizes. We estimate a minimum of USD$70 shipping costs for each order. After final packaging, we will get quotations from various shipping companies and We will communicate further updates from the shipping companies with you.

ↈ SELECT PATTERN DESIGN:

We have provided you with a list of different patterns to choose from in the listing pictures. You can select your pattern number from the image and write it On the step of adding to the card, in the "Order special instructions" field., OR you can send us any pattern design you have chosen on the internet.
Search the phrase "VECTOR PANEL" on google, There are hundreds of shops that are selling beautiful designs.
WHICHEVER DESIGN YOU SELECT, WE WILL PRODUCE THAT PANEL FOR YOU.
Just send us your selected pattern link.

PLEASE SEND US A MESSAGE IF YOU NEED ANY MORE INFORMATION...

ↈ Craftivaart accepts designs for room dividers and artistic panels for modification of any type of space. The list includes mosques, churches, hotels, libraries, hospitals, schools, office buildings, and all other places at home, work, or on the industrial scale.
View full details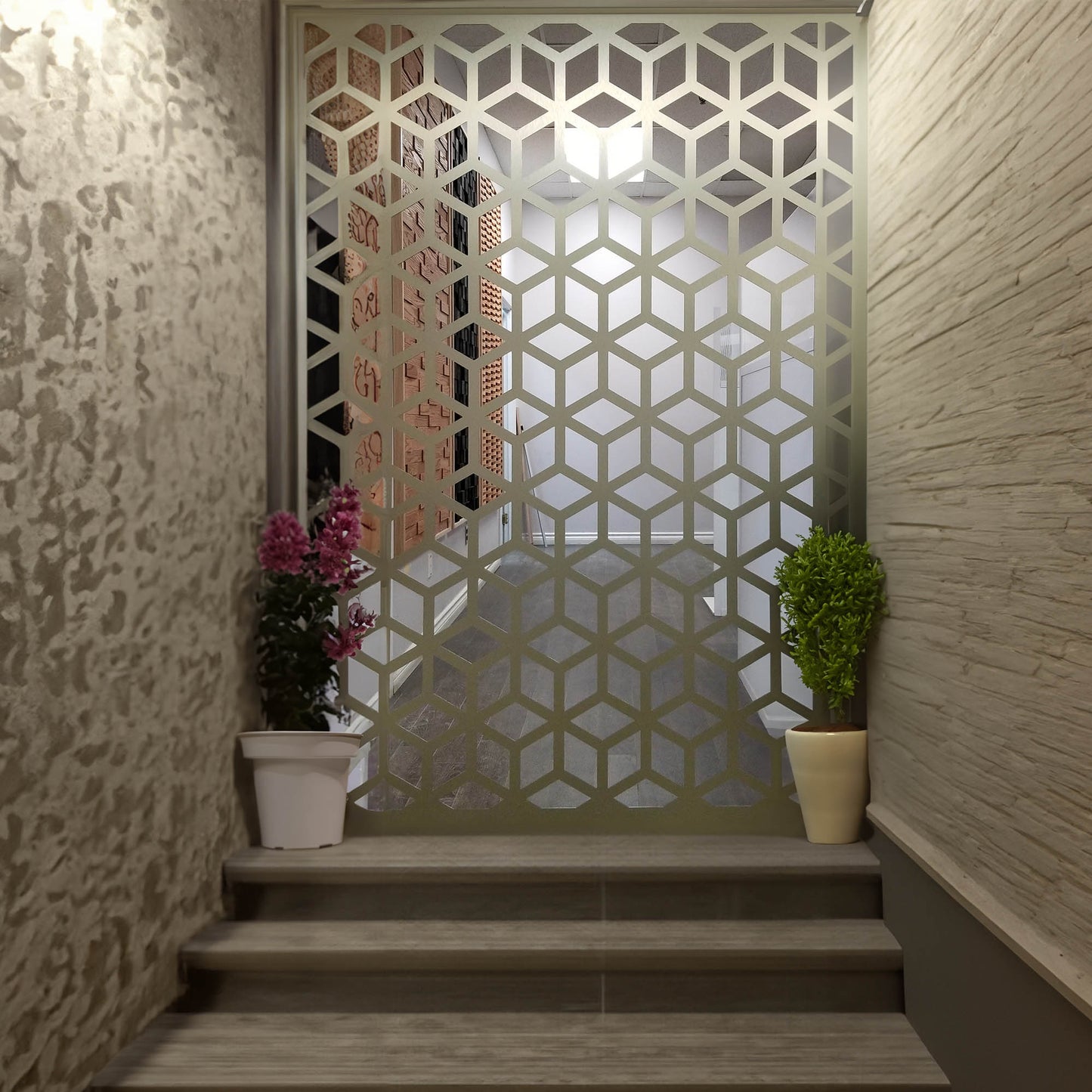 I need a custom decorative wood room partition. The geometric pattern I have in mind reminds me of a Zen garden rake pattern. I have pictures, but no CNC pattern. It will sit on a half wall at the base of a stairwell and extend all the way to the ceiling – a little over 10'. It will attach to the bottom, side wall and ceiling. The approximate dimensions are 31" x 10' 6". Is this a project you can do?

Hello Lori Casper,

Thank you for your inquiry regarding a custom decorative wood room partition. We appreciate your interest in our services.

Yes, we accept custom orders, and we would be delighted to work on your project. Please provide us the  image of your pattern.

We look forward to receiving your pattern details and discussing your custom room partition project further.

Best regards,
Craftivaart