"Exciting News! 🌟 CraftivaArt now offers easy installment plans through the Klarna app. Shop your favorite products and pay later in convenient installments. Discover the joy of hassle-free shopping with CraftivaArt and Klarna. Start exploring today!"
Regular price
$241.00 USD
Regular price
Sale price
$241.00 USD
Unit price
per
Sale
Sold out
CraftivaArt proudly introduces an exquisite array of 3D parametric wall art, designed to elevate the ambience of your home or office with the timeless elegance of Parametric wall art. Based in Toronto, Canada, CraftivaArt passionately curates a diverse selection of 3D wall art, enriching spaces worldwide. Meticulously crafted from premium materials such as wood, PVC, and MDF, our collection captivates discerning aficionados of contemporary art.
Embark on a captivating journey through our virtual treasure trove, where we invite art aficionados from every corner of the world to delve into our unparalleled 3D masterpieces. Regardless of your location – whether you reside in the heart of Canada, the vibrant landscapes of the USA, or any distant horizon – our parametric sculptures seamlessly blend with a myriad of settings. From avant-garde galleries to enchanting boutique hotels and the cozy embrace of home, our artistry transcends borders, whisking you away on a visual odyssey that dares to challenge the limits of perception and awaken the dormant dimensions of your creativity.


Every piece of CraftivaArt's parametric wall art is a testament to meticulous craftsmanship, a fusion of finesse and refinement. Our assortment encompasses entrancing parametric wall compositions, abstract wooden marvels, and bespoke creations tailored to your preferences. A symbiosis of modernity and elegance, our parametric artistry metamorphoses living spaces into realms of sophistication.
In essence, our lineage of wall art emanates from Toronto, radiating its allure worldwide.

Enhancing Hotel Design with
parametric wood wall art
Parametric wall art opens up a realm of creative possibilities for interior designers. With this captivating designs can be realized, reflecting your interior design's unique identity and brand. Whether it's mesmerizing geometric patterns, nature-inspired motifs, or abstract compositions, parametric wall art creates visually stunning focal points that leave a lasting impression on guests.
Transforming Spaces: 3d wall art has the power to transform ordinary spaces into extraordinary destinations. By strategically placing these artworks in hotel lobbies, corridors, or even guest rooms, designers can evoke a sense of awe and wonder. These captivating installations engage guests and enhance their overall experience, setting the stage for a memorable stay. Moreover, the dynamic nature of parametric wall art allows for versatility in adapting to changing design trends and guest preferences.
ↈ  Modern living room design you need to try in 2023

Geometric sea life wall art handcrafted in parametric design is one of the most popular 3D parametric wall art and sculptures on the market.
ↈ The size of wavy parametric wall art can be customized:
- S ====== 24 x 26 inches parametric
- M ===== 36 x 40 inches parametric
- L ====== 48 x 53 inches parametric
- XL ===== 60 x 66 inches parametric
ↈ Color and Material Choices for
parametric

wall art

Enjoy the high-quality and best available materials  in the market

- White (Material used: White PVC 1/2 inch)
- Light Brown Wood

- Dark Walnut Wood


 -Unpainted  Wood


 

ↈ We accept custom designs for parametric art

You can find a lot of beautiful parametric designs for sale if you search for "3D parametric CNC".
It doesn't matter which design you choose, we'll make it for you in 3D.
Please send us your selected design.
ↈ Installation of  Craftivaart 3d
parametric

wall art :

A very simple installation process. All the hardware needed to hang this "Parametric Wall Sculpture" is provided.

 



View full details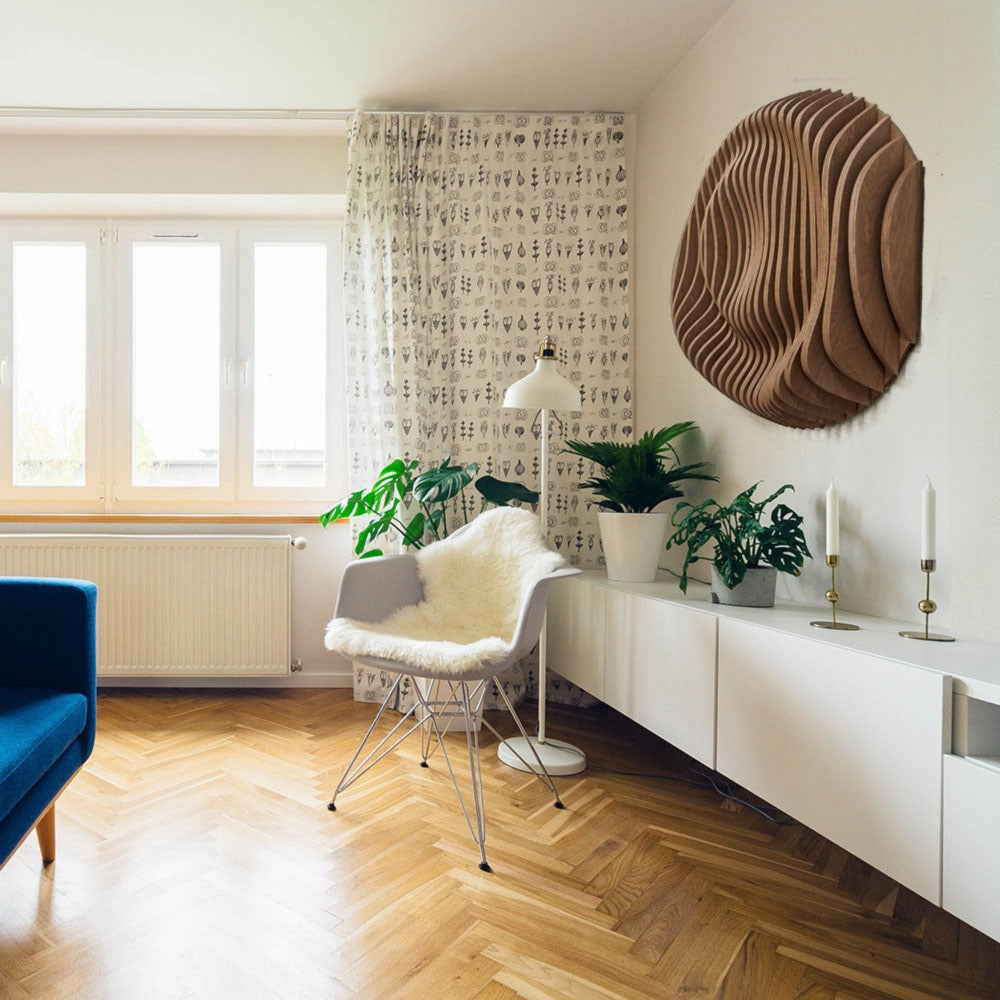 Excellent wall Art
It's really a stunning piece and I couldn't be happier. Can not even imagine how beautiful Parametric Wall Art would be! Looks excellent, Thank you!
Very cool piece of artwork.! The quality matches the description. The material is a bit soft, but that was expected as per description. The piece is deeper than I expected (about 27cm at deepest point), but it just adds to the 3D perspective. Highly recommended if your are looking for something different than a flat painting